Sahara Desert Dust Storm Impacts Brazos Valley This Weekend
Latest plume of Saharan Dust stretched across the Atlantic to the Southern Gulf of Mexico, as of Wednesday evening. Milky, hazy skies are expected across the Brazos Valley this weekend.
The large plume containing hundreds of millions of tons of dust moved off the African coastline last week -- around June 20th - 21st -- is set to travel over five thousand miles before reaching the Brazos Valley sky ahead of the weekend.

Projections from the NASA Dust / Aerosol Forecast Model predicts a light concentration of this dust plume to reach the area by Friday. Saturday should bring the highest concentration of dust -- expect skies to be a hazy, milky, grey color through most of the day.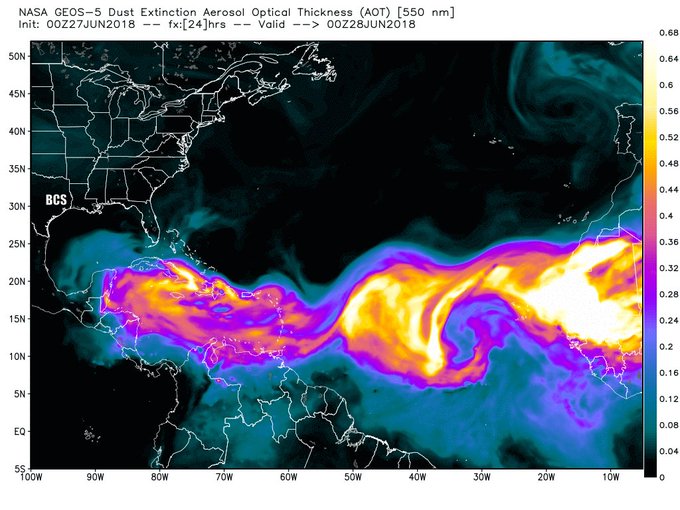 Health impacts are expected to be minimal. Those with highly sensitive respiratory issues and allergies may want to stay indoors and take it easy, especially Saturday. The TCEQ air quality forecast calls for Moderate conditions Friday & Saturday.
Sunrise and sunsets are expected to be picturesque over the next several days -- especially Saturday. Remember the opening scene from Disney's "The Lion King" -- the look at the start and end of each day is not far fetched from that.
Saharan / African dust reaching the Brazos Valley is nothing out of the ordinary during the summer months. There have already been a few plumes of a light concentration that have brought hazy skies to the area this summer. A few more rounds could be possible through August.

Lee France
Want to know more about Lee France? Get their official bio, social pages & articles on Aggie 96.com!
Read more